Donation in support of Leo's work through GoFundMe https://www.gofundme.com/f/the-leo-zagami-show-lesule cashapp/$leozagami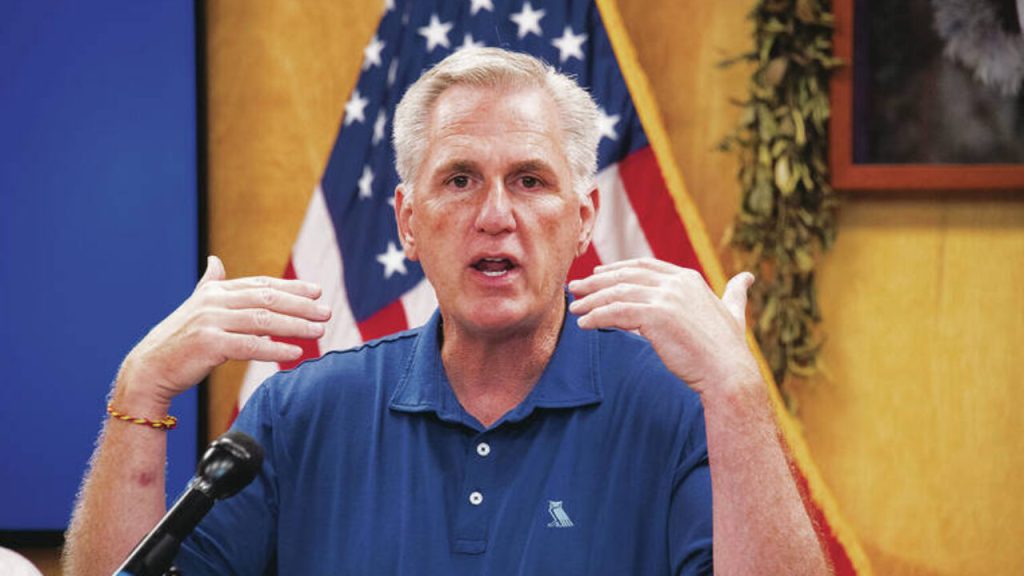 Article by Leo Zagami
Capitol Hill is set for another week of twists and turns, after just narrowly avoiding a partial shutdown of the federal government, as Florida Republican Rep. Matt Gaetz says he plans to force a vote on whether to oust Speaker Kevin McCarthy who in the eyes of many Conservatives in the past few months is a super RINO and serial traitor.[1]
Once again, McCarthy is facing opposition from a group of hard-core conservatives, many of whom are part of the Freedom Caucus, who think McCarthy will do whatever it takes to advance his career even at the expense of his political philosophy, and they are 100% correct. They do not trust him, and they are right in doing so, as Kevin McCarthy is a newly nominated member of the infamous Bohemian Club of the Illuminati, whose controversial connections to Satanism and Nazism are exposed in my latest book Confessions of an Illuminati Volume 9: Seven Steps to The Secrets of the New World Disorder from Transhumanism and Immortality to Gnostic Jesus, UFOs, and Insect Witchcraft.
You may have heard of the super-secret annual gathering of the Bohemian Club in northern California known as Bohemian Grove where my friend Alex Jones once managed to sneak in and shoot footage of the infamous Cremation of Care ceremony.
It's a male-only event where phones and photos are banned and guests are strictly forbidden from discussing who was there and what was said, including whether or not the event really ends with "a ritual that involves a human effigy and the burning of a giant sacrificial owl."
The elite summer camp has a reputation for history-making. Notable members of the Club who have indulged in camp activities over the years, have included Clint Eastwood, Henry Kissinger, Walter Cronkite, Richard Nixon, Ronald Reagan, Charles Schwab, Ambrose Bierce, Bret Harte, Mark Twain, and Jack London.[2]
A recent article I published on leozagami.com in June 2023, documented a labor lawsuit brought by former valets against the affiliated Bohemian Club, describing the newest scandal which is exposing the infamous members as some of the evilest people on earth, but also as the stingiest.
This year, Politico gave us a readout of some of the media and politics folks in attendance over the weekend at the private club's encampment among the Sonoma redwoods and one really caught our attention: House Speaker KEVIN McCARTHY. Apparently, McCarthy intervened during this yearly event in support of DONALD TRUMP winning the GOP nomination, and the Trump campaign was happy to hear about this, but can we trust him? "President Trump and Speaker McCarthy have historically had a very good relationship," said a Trump aide to Politico after hearing of the event,[3] definitely not understanding the possible implications of making such a move in the long run.
Trump was highly successful as the keynote lunch speaker at the California Republican Party last week and was received like a rockstar when he made a quick stop in West Los Angeles for some ice cream during his Southern California trip.
In my opinion, Donald J. Trump doesn't need the support of the Bohemian Club and its evildoers in any way, shape, or form, on the contrary of career politician and Speaker of the House, Kevin McCarthy, who even promotes the "Bohemian's" by visiting Maui after the deadly fires by sporting a blue shirt (or polo) with the Bohemian Grove owl logo.
We support rebellious Republican Representative Matt Gaetz in his bid to oust McCarthy as House speaker launched on Sunday, during an appearance on CNN's "State of the Union" where he announced that he plans to file a motion to vacate McCarthy this week, just nine months after McCarthy struggled to win the job amid challenges from Gaetz himself and other hardline conservative Republicans, because he does not deserve to be the House speaker for the MAGA Republican party.
"I am relentless, and I will continue to pursue this objective," Gaetz told ABC, referring to a "motion to vacate! – the formal term in Congress for forcing a vote to remove McCarthy and trigger a battle for installing a new speaker.
McCarthy dismissed the threat from Gaetz telling CBS, "I'll survive" and when he joined "FOX & Friends" to discuss the crisis he said, "Bring it on."
However, no U.S. House speaker has ever been removed from this high office which puts him second in line for the presidency. Gaetz was angered by McCarthy's move to pass a short-term funding bill on Saturday with support from opposition Democrats to keep the government fully operating. Gaetz and a group of other hardline House Republicans insist on deep spending cuts that Democrats argue would break a deal brokered earlier this year by President Joe Biden[4] and of course, the new Bohemian club puppet McCarthy, who Gaetz is exposing as another swamp creature. Get Volume 9 today and learn the hidden secrets of the Bohemian Club RINO's.
---
[1] https://theconservativetreehouse.com/blog/2023/05/28/sunday-talks-kevin-mccarthy-makes-his-case-for-the-debt-ceiling-bill/
[2] https://www.britannica.com/topic/The-Bohemian-Club
[3] https://www.politico.com/newsletters/playbook/2023/07/25/what-mccarthy-said-at-bohemian-grove-00107958
[4]      https://news.yahoo.com/us-house-speaker-mccarthy-braces-100522799.html
ATTENTION Leo Zagami's most important book is out now! Confessions of an Illuminati Volume 9: Seven Steps to The Secrets of the New World Disorder from Transhumanism and Immortality to Gnostic Jesus, UFOs, and Insect Witchcraft
GET ALSO A COPY OF LEO ZAGAMI'S Confessions of an Illuminati Volume 8: From the Rise of the Antichrist To the Sound of the Devil and the Great Reset,  the only book out there that could help confused Kanye West aka Ye learn the truth about the Hollywood elite and their secret purpose.
  And don't miss the amazing Confessions of an Illuminati Volume 7: From the Occult Roots of the Great Reset to the Populist Roots
GET also Confessions of an Illuminati Volume 5: The Decline of the West and the Rise of Satanism in our Society with a brand-new chapter on the CCP virus and The End Times
And don't forget also Confessions of an Illuminati Vol. 4, American Renaissance 2.0 and The Missing Link From the Invisible World