Please help keep this website going by making a small donation in support of Leo's work through Fundly: https://fundly.com/leo-lyon-zagami-channel  or Patreon: https://www.patreon.com/leozagami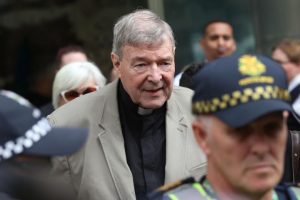 Article by Leo Zagami
QAnon conspiracy theorists believe Donald Trump is secretly leading a law-enforcement scheme to arrest a global pedophilia ring during the COVID-19 crisis. Unfortunately, this is not true, and the situation is rather the contrary at the moment, meaning that the pedophiles are using the present crisis to leave their prisons. First, we have Hollywood's Harvey Weinstein, who was removed from prison recently because he was allegedly affected by COVID-19, and now we have Cardinal George Pell,  who got his get out of jail free card after the High Court influenced by both Pope Francis, and Queen Elisabeth II, completely squashed his pedophilia conviction for sexually abusing two choir boys.
This decision confirms what I wrote on February 17, 2020, regarding the will of the Vatican to save Cardinal Pell at all costs and bring him back to Rome:
"In a nutshell, the Secretariat of State, the Vatican's ultra-powerful coordinating agency, has been involved in a huge scandal last year that only Pell seems able to solve, but of course, he wants freedom and to be able to return to Rome in exchange."
I also wrote in the same article that: "Pope Francis and the Vatican's ongoing support and protection of Cardinal George Pell will make it clear to the whole world that Pope Francis and the church at the highest level are complicit in at least concealing the sexual abuse of children."
(https://leozagami.com/2020/02/17/cardinal-pells-appeal-of-abuse-conviction-coming-up-as-the-vatican-wants-him-back/)
In another article from two days later,  on February 19, 2020, I was even more clear about Cardinal Pell's destiny:  "Of course, Pell whose weak spot was always pedophilia, like most Vatican officials, is conveniently in jail, but not for long, as Pell, who is the only one who knows the full extent of the speculative and illegal offshore operations conducted by the Vatican and certain Freemasons using mainly Credit Suisse bank." Adding soon after "As the last appeal for Cardinal Pell draws closer, his chances of returning to Rome are increasing every day."
(https://leozagami.com/2020/02/19/another-vatican-raid-connected-to-pells-acquittal-and-the-acceptance-of-freemasonry-by-the-church/)
The Vatican pulls this stunt at the most convenient time for them, with the world too preoccupied with the novel Coronavirus to care about Cardinal Pell.  I'm afraid Trump is not secretly arresting pedophiles while you're watching Netflix during your quarantine, my dear QAnon fanatics, they are doing exactly the opposite.
However today, President Donald J. Trump during his daily speech at the White House Coronavirus (COVID-19) Task Force briefing, mentioned the war against human trafficking, and we know he will continue in his capacity to do more to fight the pedophile elite with a more realistic time frame, not the fantasy world of Qanon where daily arrest seems a daily occurrence. In the meantime, a rare video that shows Jesuit agent Dr. Anthony Fauci, the U.S. government's top infectious disease specialist, giving a rather prophetic speech at Jesuit Georgetown University in 2017, casting one more shadow on the true intentions of Dr.Fauci.
In the video in question, Fauci sends a warning back in early 2017 that a "surprise outbreak" would occur during the Trump administration,  stating that more was needed to be done to prepare for a pandemic. How did he know that? Well, Dr. Fauci, loyal to his Jesuit background, has a multi-million dollar relationship with Microsoft founder Bill Gates, another ally of Pope Francis and the Jesuits. For this reason, Dr. Fauci, who is closer to the Democrats and fellow Italo-Americans Jesuit agents like Nancy Pelosi, cast doubts on Chloroquine, visibly opposing President Trump's wishes to at least experiment with this malaria drug for people in desperate need during the COVID-19 epidemic.
Jesuit trained Dr. Fauci, and Coronavirus response team member Dr. Deborah Birx, who was appointed by former-President Obama to serve as the United States Global AIDS Coordinator, not only supports the Gates vaccines solution, but also Bill's "digital certificates" or quantum-dot tattoos,  aka microchips, that will be officially implementedto help control disease like the novel Coronavirus, but are in reality an excuse for the infamous Mark of the Beast.
Bill Gates announced on March 18, 2020, during a Reddit Ask Me Anything session, that he is working on a new, invisible "quantum dot tattoo" implant that will track who has been tested for COVID-19 and who has been vaccinated against it. They are trying to put us all under their evil spell and thanks to their technology, establish a New World Order ruled by Artificial Intelligence aka Cyber Satan. Coronavirus or "COVID-19" is part and parcel of that unholy and evil agenda and people need to wake up fast or risk enslavement by the Prince of Darkness.
So are you wondering how Cardinal Pell one of the most influential Satanists on the planet made it out of prison during the COVID-19 crisis? Australia's most senior Catholic originally convicted in 2018 of performing sex acts on choir boys of Saint Patrick's Cathedral in Melbourne back in 1996, and after avoiding other cases of pedophilia against him, is now free to go back to Rome as I predicted on Infowars and leozagami.com many times.
The decision overturns an earlier ruling by the Chief Justice of the Supreme Court of Victoria, Justice Anne Ferguson, president of the Court of Appeal, Justice Chris Maxwell, and Justice Mark Weinberg. It took nine weeks to come to their decision, and it took the High Court a little under four to reverse it.
OUT NOW Confessions of an Illuminati Volume 8: From the Rise of the Antichrist To the Sound of the Devil and the Great Reset,  the only book out there that could help confused Kanye West aka Ye learn the truth about the Hollywood elite and their secret purpose.
Get Leo's latest book: Confessions of an Illuminati Vol. 4, American Renaissance 2.0 and The Missing Link From the Invisible World.
You can find it now on Amazon in both paperback:
https://www.amazon.com/dp/1679105434/ref=cm_sw_r_fa_awdo_t1_kGIaEbKMF61NP?fbclid=IwAR2ayxAv16FsFMVBDow7CPhdIctj9_X2bEiQjPHbbjyMFfbJtwb88NZW64M
And Kindle format:
https://www.amazon.com/Confessions-Illuminati-Four-Renaissance-Invisible-ebook/dp/B082ZTFTHV?fbclid=IwAR1HcyOk5b0ZAmMSAyyYMCfPGdjbv9obkFD2fozyrvwJ3s6ahWhqL7iECbc
PLEASE SUPPORT LEO'S WORK BY BUYING HIS LATEST BOOKS!!!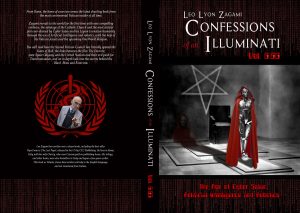 Leo Zagami is a regular contributor to Infowars and the author of the groundbreaking book  Confessions of an Illuminati Vol. 6.66 The Age of Cyber Satan, Artificial Intelligence, and Robotics
OUT NOW ON KINDLE:
https://www.amazon.com/Confessions-Illuminati-6-66-Artificial-Intelligence-ebook/dp/B07NS8WS9V/ref=sr_1_2?s=books&ie=UTF8&qid=1550411820&sr=1-2&keywords=vol.+6.66
And on paperback :
https://www.amazon.com/dp/1796904694/ref=cm_sw_r_fa_awdo_t1_2dvACb2HVH6TP?fbclid=IwAR1h_VlIytuACI3zxXUc9mBfOk96N4Yk0WH3To6Psv2kbFxJLwfzAwV4mUE

Leo Zagami is also the author of  Confessions of an Illuminati Volume 5: The Decline of the West and the Rise of Satanism in our Society 
OUT NOW ON KINDLE: https://www.amazon.com/dp/B07BQVQ9ZM/ref=tsm_1_fb_lk
And on paperback : https://www.amazon.com/dp/1986894657/ref=sr_1_8?ie=UTF8&qid=1522233257&sr=8-8&keywords=leo+zagami