Please help keep this website going by making a small donation in support of Leo's work through Fundly: https://fundly.com/leo-lyon-zagami-channel  or Patreon: https://www.patreon.com/leozagami
Article by Leo Zagami 
One of the closest collaborators of Pope Francis has tested positive for the coronavirus. Cardinal Angelo De Donatis, the Catholic prelate who currently serves as Cardinal Vicar(officially Vicar General of the Pope in the diocese of Rome), who is also Archpriest of the Archbasilica of St. John Lateran, and Grand Chancellor of the Pontifical Lateran University has tested positive for the novel coronavirus.
The Vicariate of Rome released the following statement a couple of hours ago:  "After manifesting some of the symptoms, was subjected to the Covid-19 test resulting positive. He was admitted to the Agostino Gemelli Foundation University Hospital ."
The Vatican is in a state of panic, even if some well-informed sources said that the Pope may have received a vaccine or an experimental cure right at the start of the COVID-19 crisis.
Meanwhile, the Italian Mafia is organizing themselves. From the historic Cosa Nostra in Sicily to the immensely powerful 'Ndrangheta in Calabria and the infamous Camorra in Naples are all secretly arranging riots in the south of Italy with the support of certain Masonic factions taking advantage of the desperation of many people who can no longer feed their children. The first riots already took place in Sicily last week.
The situation of tension that could bring to a full-on civil war after the corrupt Italian government has failed every promise to their people has pushed the U.S. to intervene and earlier today President Donald J. Trump, speaking at a coronavirus briefing in the White House Rose Garden, said the U.S. will be sending about $100 million in medical and hospital items to Italy.
Will that be enough for a country that has sold out most of its critical info structures to China last year? Probably not but let's see what happens next.
The Jesuits have highjacked the Catholic Church to shape the future religion of the Antichrist and you can learn more about it in my latest book: Confessions of an Illuminati Vol. 4, American Renaissance 2.0 and The Missing Link From the Invisible World.
You can find it now on Amazon in both paperback:
https://www.amazon.com/dp/1679105434/ref=cm_sw_r_fa_awdo_t1_kGIaEbKMF61NP?fbclid=IwAR2ayxAv16FsFMVBDow7CPhdIctj9_X2bEiQjPHbbjyMFfbJtwb88NZW64M
And Kindle format:
https://www.amazon.com/Confessions-Illuminati-Four-Renaissance-Invisible-ebook/dp/B082ZTFTHV?fbclid=IwAR1HcyOk5b0ZAmMSAyyYMCfPGdjbv9obkFD2fozyrvwJ3s6ahWhqL7iECbc
PLEASE SUPPORT LEO'S WORK BY BUYING HIS LATEST BOOKS!!!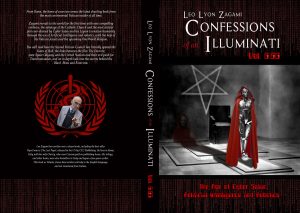 Leo Zagami is a regular contributor to Infowars and the author of the groundbreaking book  Confessions of an Illuminati Vol. 6.66 The Age of Cyber Satan, Artificial Intelligence, and Robotics
OUT NOW ON KINDLE:
https://www.amazon.com/Confessions-Illuminati-6-66-Artificial-Intelligence-ebook/dp/B07NS8WS9V/ref=sr_1_2?s=books&ie=UTF8&qid=1550411820&sr=1-2&keywords=vol.+6.66
And on paperback :
https://www.amazon.com/dp/1796904694/ref=cm_sw_r_fa_awdo_t1_2dvACb2HVH6TP?fbclid=IwAR1h_VlIytuACI3zxXUc9mBfOk96N4Yk0WH3To6Psv2kbFxJLwfzAwV4mUE

Leo Zagami is also the author of  Confessions of an Illuminati Volume 5: The Decline of the West and the Rise of Satanism in our Society 
OUT NOW ON KINDLE: https://www.amazon.com/dp/B07BQVQ9ZM/ref=tsm_1_fb_lk
And on paperback : https://www.amazon.com/dp/1986894657/ref=sr_1_8?ie=UTF8&qid=1522233257&sr=8-8&keywords=leo+zagami