Please help keep this website going by making a small donation in support of Leo's work through Fundly: https://fundly.com/leo-lyon-zagami-channel  or Patreon: https://www.patreon.com/leozagami
Article by Leo Lyon Zagami 
The Queen convened for an emergency conference call of all four royal households to try and find a "workable"future role for the Duke and Duchess of Sussex, within "days not weeks." Queen Elisabeth II, in Sandringham, Prince Charles, in Scotland, and Prince William have been locked away for hours in a four-way conference call with Prince Harry, in Windsor, to try and resolve Meghan and Harry's exit from the Royal family in an amicable way.  However, tension is rising as the real reason why Harry and Meghan have announced that they want to "resign" from their senior Royal position claiming they  want to be financially independent, is so they can make a lot more money.
The  Duke and Duchess of Sussex are conveniently forgetting that the British people have spent 45,184,000 million for their lavish wedding that cost even more than the one involving the future Queen and King of  England, Kate Middleton and Prince William, who spent 35 million in comparison. According to Royal experts, the future of the libtard couple will follow in the footsteps of the Obama's and the Clinton's, who the Royal duo admires very much.
Barack Obama began earning $400,000 per conference after his presidency, and Michelle $ 200,000, so the Duke and Duchess of Sussex are two money greedy crooks who will not settle for a few pennies from Queen Elisabeth's allowance and want to transform their marriage into a money-making machine. The couple, who have an estimated private fortune of £45 million (some say £34 million) British Pounds to finance their new life, finally have the opportunity to make more money than ever through various projects.
Of course, to continue taking advantage of the "Sussex Royal" brand the Royal renegades have promptly trademarked it in the last six months for over 100 items, from hoodies to socks before splitting with the monarchy and upsetting the Queen in the process.
Retail expert Andy Barr said that with this move he expects Prince Harry and Meghan's new Sussex Royal product empire to generate revenues of £400million. They will make big bucks by giving conferences, selling autobiographies, and products without the responsibility of being part of the declining Royal circus that is still recovering from the Jeffrey Epstein scandal involving Prince Andrew, who is the uncle of Prince Harry.
Just hours after the Royal couple shocked the world — and pissed off the Queen in the process by announcing they were stepping down from their senior duties the famed wax museum on Baker Street booted out the wax statues of Harry and Meghan. Their figures previously stood alongside Queen Elizabeth II, Prince Philip, Prince William, and Kate Middleton but that's no longer the case and if Prince Harry and Meghan want to continue their exit from the Royal family with the respect of the world they should sign a paper stating they will reimburse the British people 45,184,000, and if they do not, it is clearly  fraud perpetrated on the British people never mind the boost to the UK economy at the time of their Royal wedding.
Get Leo's latest book: Confessions of an Illuminati Vol. 4, American Renaissance 2.0 and The Missing Link From the Invisible World.
You can find it now on Amazon in both paperback:
https://www.amazon.com/dp/1679105434/ref=cm_sw_r_fa_awdo_t1_kGIaEbKMF61NP?fbclid=IwAR2ayxAv16FsFMVBDow7CPhdIctj9_X2bEiQjPHbbjyMFfbJtwb88NZW64M
And Kindle format:
https://www.amazon.com/Confessions-Illuminati-Four-Renaissance-Invisible-ebook/dp/B082ZTFTHV?fbclid=IwAR1HcyOk5b0ZAmMSAyyYMCfPGdjbv9obkFD2fozyrvwJ3s6ahWhqL7iECbc
PLEASE SUPPORT LEO'S WORK BY BUYING HIS LATEST BOOKS!!!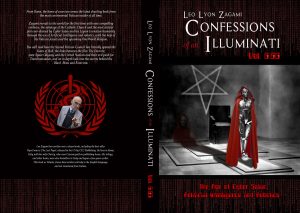 Leo Zagami is a regular contributor to Infowars and the author of the groundbreaking book  Confessions of an Illuminati Vol. 6.66 The Age of Cyber Satan, Artificial Intelligence, and Robotics
OUT NOW ON KINDLE:
https://www.amazon.com/Confessions-Illuminati-6-66-Artificial-Intelligence-ebook/dp/B07NS8WS9V/ref=sr_1_2?s=books&ie=UTF8&qid=1550411820&sr=1-2&keywords=vol.+6.66
And on paperback :
https://www.amazon.com/dp/1796904694/ref=cm_sw_r_fa_awdo_t1_2dvACb2HVH6TP?fbclid=IwAR1h_VlIytuACI3zxXUc9mBfOk96N4Yk0WH3To6Psv2kbFxJLwfzAwV4mUE

Leo Zagami is also the author of  Confessions of an Illuminati Volume 5: The Decline of the West and the Rise of Satanism in our Society 
OUT NOW ON KINDLE: https://www.amazon.com/dp/B07BQVQ9ZM/ref=tsm_1_fb_lk
And on paperback : https://www.amazon.com/dp/1986894657/ref=sr_1_8?ie=UTF8&qid=1522233257&sr=8-8&keywords=leo+zagami