Please help keep this website going by making a small donation in support of Leo's work through Fundly: https://fundly.com/leo-lyon-zagami-channel  or Patreon: https://www.patreon.com/leozagami
Article by Leo Zagami
In Italy, the risk of making a brutta figura, a "bad impression," that can best be translated to "making a fool out of yourself," is always waiting just around the corner.Pope made a huge brutta figura last night in St.Peters Square after a visibly upset Pope Francis had to yank his arm away from the clutches of an over-zealous woman slapping at the woman's hand twice to break free.
Today in his New Year's wishes to the public in St. Peter's Square, Francis confessed to losing his patience with the woman stating in his impromptu remarks: "so many times we lose patience, me, too." He then added, "I say 'excuse me' for the bad example."
So, Pope Francis apologized for slapping the woman's hand and then in a typical Jesuit fashion he turned the situation around and denounced violence against women, but that was not enough for most Catholics who are outraged by this brutal action by the Pope, including Matteo Salvini the pro-Trump Italian politician who served as Deputy Prime Minister of Italy and Minister of the Interior and his the Federal Secretary of the popular Northern League.
Salvini, who is on a skiing holiday with his girlfriend, Francesca Verdini decided to make a small video dedicated to what happened last night where they both reenacted the event. Matteo Salvini is seen being pulled by the hand by his girlfriend, but instead of acting without compassion like the evil Pope,  he makes a proper Christian gesture in return.
Salvini, who is constantly clashing with the Communist Pope, stood in front of a Milan cathedral earlier this year with other European conservative politicians, holding a rosary, and calling for the defense of Christian Europe against its replacement by foreigners.The League placed first in Italy in elections for the European Parliament in May, with 34 percent of the vote, but lost its position in parliament in September thanks to a soft coup arranged by the European technocrats and the Jesuits.
The Jesuits have highjacked the Catholic Church to shape the future religion of the Antichrist and you can learn more about it in my latest book: Confessions of an Illuminati Vol. 4, American Renaissance 2.0 and The Missing Link From the Invisible World.
You can find it now on Amazon in both paperback:
https://www.amazon.com/dp/1679105434/ref=cm_sw_r_fa_awdo_t1_kGIaEbKMF61NP?fbclid=IwAR2ayxAv16FsFMVBDow7CPhdIctj9_X2bEiQjPHbbjyMFfbJtwb88NZW64M
And Kindle format:
https://www.amazon.com/Confessions-Illuminati-Four-Renaissance-Invisible-ebook/dp/B082ZTFTHV?fbclid=IwAR1HcyOk5b0ZAmMSAyyYMCfPGdjbv9obkFD2fozyrvwJ3s6ahWhqL7iECbc
PLEASE SUPPORT LEO'S WORK BY BUYING HIS LATEST BOOKS!!!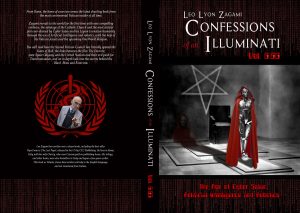 Leo Zagami is a regular contributor to Infowars and the author of the groundbreaking book  Confessions of an Illuminati Vol. 6.66 The Age of Cyber Satan, Artificial Intelligence, and Robotics
OUT NOW ON KINDLE:
https://www.amazon.com/Confessions-Illuminati-6-66-Artificial-Intelligence-ebook/dp/B07NS8WS9V/ref=sr_1_2?s=books&ie=UTF8&qid=1550411820&sr=1-2&keywords=vol.+6.66
And on paperback :
https://www.amazon.com/dp/1796904694/ref=cm_sw_r_fa_awdo_t1_2dvACb2HVH6TP?fbclid=IwAR1h_VlIytuACI3zxXUc9mBfOk96N4Yk0WH3To6Psv2kbFxJLwfzAwV4mUE

Leo Zagami is also the author of  Confessions of an Illuminati Volume 5: The Decline of the West and the Rise of Satanism in our Society 
OUT NOW ON KINDLE: https://www.amazon.com/dp/B07BQVQ9ZM/ref=tsm_1_fb_lk
And on paperback : https://www.amazon.com/dp/1986894657/ref=sr_1_8?ie=UTF8&qid=1522233257&sr=8-8&keywords=leo+zagami