Please help keep this website going by making a small donation in support of Leo's work through Paypal: https://www.paypal.me/LeoZagami
Father Georg Gänsewein Prefect of the Papal household and Count Alfredo Esposito a diplomat of the  Sovereign Military Order of Malta (SMOM) and a co-founder of Italians4Trump at the 203rd anniversary of the foundation of the Gendarmerie Corps of Vatican City State
Article by Leo Zagami
Secretary of State Mike Pompeo visited the Vatican earlier today to preside over a symposium sponsored by the U.S. Embassy to the Holy See, but there is a lot more going on in Rome behind the scenes in the last few days. Of course, Pompeo did an excellent job speaking this morning at the symposium, which focused on areas of collaboration between the U.S. and the Vatican including the causes of advancing religious freedom and fighting against human trafficking. Pompeo denounced authoritarian regimes and autocrats, naming Cuba, Iran, China, and Syria as the roots of religious repression because they fail to acknowledge a power higher than their own.
Pompeo, who diplomatically avoided mentioning Venezuela and Maduro, who is protected by the Jesuit Pope, declared: "When the state rules absolutely, God becomes an absolute threat to authority … human dignity is trampled … moral norms are crushed completely." 
However, the main reason for Mike Pompeo's visit to the Vatican was mainly connected to the raid I reported on yesterday that was conducted by the Vatican police on the Secretariat of State and finance watchdog offices.
https://leozagami.com/2019/10/01/money-laundering-and-mafia-infiltration-push-vatican-prosecutors-to-conduct-a-raid-on-vatican-secretariat-of-state-offices/
The shocking news was initially broken yesterday by the Holy See's Press Office in a communication to the international media hours after the morning raids, who clearly stated the raids were related to "Denunciations presented at the beginning of last summer by the Institute for the Works of Religion, and by the Officer of the Auditor General."  The Institute for Works of Religion (IOR), commonly referred to as the Vatican Bank, is a privately held financial institution located inside Vatican City. Founded in 1942, the IOR's role is to safeguard and administer property intended for works of religion or charity, but it has been also used for decades by other external entities like the C.I.A. to finance black ops against Communism or criminal organizations for money-laundering. One of the world's greatest fiscal powers, this sovereign mini-state of 109 acres called the Vatican, has  investments in every sector of the Italian economy, as well as abroad, and because the Vatican is not subject to Italy's stringent currency regulations, the IOR has been able to move huge sums throughout the international money market for decades, while eluding auditors and the like.
In effect, the Vatican Bank operates in a sort of fiscal twilight zone, immune to outside interference, in a manner similar to an off-shore bank based on some faraway island. As I wrote in a previous article, the Council of Europe's financial-evaluation arm called Moneyval, moved against the Vatican Bank in 2015, telling the rather unholy financiers, who had been accused of money-laundering for years, that it isn't enough to just smoke out suspicious account holders and freeze assets, that they need to do something more to avoid being exposed and isolated from the rest of the financial world. Moneyval said they would start prosecuting criminal cases in the Vatican, but could this really happen when it touches on the National Security of the United States? Of course not! That's why we go inevitably towards what our President calls "The Art of the Deal."
Robert Mueller, Joseph Mifsud, and Stephan Roh are all agents of the Sovereign Military Order of Malta (SMOM) working 24/7 to overthrow Donald J. Trump using illegal means, and Trump knows it. For this reason, something is being clearly worked out behind the scenes in Rome and the Vatican in the last few hours to avoid further problems and possibly turn around the increasingly annoying Mueller 2.0., born out of this idiotic Ukraine affair. "We all know that impeachment is a political affair, not a legal one," as Jan Techauan, an analyst with the German Marshall Fund in Berlin pointed out a few days ago. So how can we sort out this mess? Well, the Knights of Malta might have a central role to play in this. As my regular readers know I reported a year and a half ago that Pope Francis has taken over the Sovereign Military Order of Malta (SMOM), commonly referred to as The Knights of Malta to use this once independent Order for his dirty games.
https://leozagami.com/2018/05/02/pope-francis-takes-over-the-knights-of-malta/
It is well-known that the most powerful people in the world are members of SMOM, but what people don't know is that the Vatican Knights of Malta have their own intelligence agency, separate from the Jesuits, made up of secular agents who are usually rogue intelligence agency operatives from a variety of countries. These agents are not always full members of SMOM, but take their orders directly from the Grand Master of this order who is currently Prince and Grand Master, Fra' Giacomo Dalla Torre del Tempio di Sanguinetto, a Jesuit agent imposed by Pope Francis.
So President Trump has sent both Mike Pompeo and Attorney General William Barr to Italy to discuss the situation directly with the enemy in their headquarters.  Remember, Joseph Mifsud the mysterious Professor who helped ignite the Russia Probe who some say might already be dead, was a Vatican spy running an intelligence training facility out of Rome through the direction of the Sovereign Military Order of Malta at Link Campus University, formerly known as the University of Malta, owned by Jesuit-influenced Stepan Roh, who is also linked to Russia.Officially, Link Campus instructs NATO intelligence personnel, U.S. intelligence, and U.S. law enforcement officials who are also involved with Link, this is information you can even find on Wikipedia, but what they don't tell you is that the Vatican Jesuits have controlled this institution from the start, and even before that, as the Vatican owns this place commissioned by future Pope Pius V (1504-1572).
However, a few fellow Trumpians, like my close friend professor Antonio Maria Rinaldi, have been infiltrating the Link Campus for years, often feeding us with inside information published through his website Scenarieconomici.it 
Antonio, a member of Italians4Trump, has left Link Campus after recently being elected member of the European parliament on the League's list. Antonio taught political economy and corporate finance at the Link Campus University of Rome so he definitely was in an insiders position to monitor the illegal operations conducted by the U.S. Democrats in this key place for the international intelligence community.
That's why Attorney General William Barr showed up at the U.S. embassy's Palazzo Margherita in Via Veneto last week, with two primary requests. He needed a conference room to meet high-level Italian security agents where he could be sure no one was listening in, and he needed an extra chair for U.S. Attorney John Durham of Connecticut, who would be sitting in as his right-hand man.
A source in the Italian Ministry of Justice, speaking on the condition of anonymity, told The Daily Beast that Barr and Durham were played the tape. A second source within the Italian government also confirmed to The Daily Beast that Barr and Durham were shown other evidence the Italians had on Mifsud.  Ever since Robert Mueller concluded his infamous probe in March 2019, Barr has worked to blunt its impact and investigate the investigators behind it in an investigation that will inevitably lead to the Vatican.
In the meantime, the Vatican went on the offensive to avoid being exposed, and a few days ago on the feast of the Vatican Gendarmerie Corps at the Square Garden of the Vatican Museums on the occasion of the 203rd anniversary of its foundation, there was a secret summit.
During this summit presided by Georg Gänswein Prefect of the Papal Household, and personal secretary to Pope Emeritus Benedict XVI, Father Georg, and the Vatican Knights of Malta aka the SMOM, decided to order a raid conducted by the Gendarmerie Corps of the Vatican in the offices of the Vatican's Secretariat of State and the city-state's financial watchdog a couple of days later on October 1st,  to avoid certain documents falling in the wrong hands. Once again, Italians4Trump were present at this important meeting with Count Alfredo Esposito, a high ranking SMOM member in charge of the diplomatic side, to see if a deal could be worked out between President Trump and the Vatican.
This is a developing story, but President Donald J.Trump will have all the necessary information to avoid this latest impeachment farse and much more on the past Russia Hoax investigation once Secretary of State Mike Pompeo and Attorney General William Barr return from Italy. Mr. Pompeo's trip to Italy, will also include a meeting with Pope Francis on Thursday. Remember, you read it first on leozagami.com!
Sorry I cannot use Patreon due to my current non citizen status so I am stuck with Paypal for those kind enough to support me.
PLEASE SUPPORT LEO'S WORK BY BUYING HIS LATEST BOOKS!!!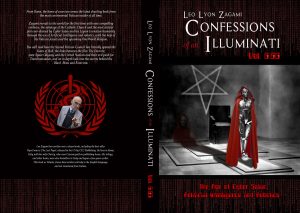 Leo Zagami is a regular contributor to Infowars and the author of the new groundbreaking book  Confessions of an Illuminati Vol. 6.66 The Age of Cyber Satan, Artificial Intelligence, and Robotics
OUT NOW ON KINDLE:
https://www.amazon.com/Confessions-Illuminati-6-66-Artificial-Intelligence-ebook/dp/B07NS8WS9V/ref=sr_1_2?s=books&ie=UTF8&qid=1550411820&sr=1-2&keywords=vol.+6.66
And on paperback :
https://www.amazon.com/dp/1796904694/ref=cm_sw_r_fa_awdo_t1_2dvACb2HVH6TP?fbclid=IwAR1h_VlIytuACI3zxXUc9mBfOk96N4Yk0WH3To6Psv2kbFxJLwfzAwV4mUE

Leo Zagami is also the author of  Confessions of an Illuminati Volume 5: The Decline of the West and the Rise of Satanism in our Society 
OUT NOW ON KINDLE: https://www.amazon.com/dp/B07BQVQ9ZM/ref=tsm_1_fb_lk
And on paperback : https://www.amazon.com/dp/1986894657/ref=sr_1_8?ie=UTF8&qid=1522233257&sr=8-8&keywords=leo+zagami