Article by Leo Zagami
In the aftermath of the video that went viral of Pope Francis in Loreto, Pope Francis'team revealed that his decision to repeatedly pull his hand away to avoid pilgrims in Loreto from kissing his ring was due to a fear of spreading germs. A new version of the event attempts to distance Pope Francis from any controversy in the wake of criticism from many conservative members of the Church who viewed his actions as disrespectful of a Catholic tradition that dates back hundreds of years.
Vatican spokesperson Alessandro Gisotti gave a press address on Thursday, attempting to set the record straight regarding the Pope's controversial behavior. Gisotti insisted that it was not the tradition itself that Francis was opposed to, as he had allowed smaller groups to kiss his ring on multiple occasions in the past, but rather the risk of spreading germs between people. "The Holy Father told me that the motivation was very simple: hygiene,"said Gisotti. "He wants to avoid the risk of contagion for the people, not for him."
"Pope Francis wants to stay humble,"or"Pope Francis is also known for his humility." Is the analysis given initially by progressive voices in the media who praised his action as a great step forward in bringing church authorities closer to the people, but now the excuse has changed to health concerns.
The Vatican knows they are losing ground and Pope Francis'false modesty is not working for the majority of Catholics that will never accept the excuse of health concerns that, in this case, should be taken care of by the Holy Spirit.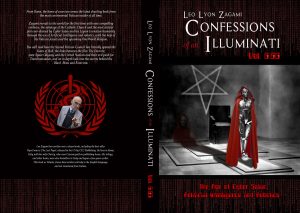 Leo Zagami is a regular contributor to Infowars and the author of the new groundbreaking book  Confessions of an Illuminati Vol. 6.66 The Age of Cyber Satan, Artificial Intelligence, and Robotics
OUT NOW ON KINDLE:
https://www.amazon.com/Confessions-Illuminati-6-66-Artificial-Intelligence-ebook/dp/B07NS8WS9V/ref=sr_1_2?s=books&ie=UTF8&qid=1550411820&sr=1-2&keywords=vol.+6.66
And on paperback :
https://www.amazon.com/dp/1796904694/ref=cm_sw_r_fa_awdo_t1_2dvACb2HVH6TP?fbclid=IwAR1h_VlIytuACI3zxXUc9mBfOk96N4Yk0WH3To6Psv2kbFxJLwfzAwV4mUE

Leo Zagami is also the author of  Confessions of an Illuminati Volume 5: The Decline of the West and the Rise of Satanism in our Society 
OUT NOW ON KINDLE: https://www.amazon.com/dp/B07BQVQ9ZM/ref=tsm_1_fb_lk
And on paperback : https://www.amazon.com/dp/1986894657/ref=sr_1_8?ie=UTF8&qid=1522233257&sr=8-8&keywords=leo+zagami