Article by Leo Zagami 
Vatican City, February 19 – The organizing committee that will present the upcoming event in the Vatican between the 21st and 24th of February 2019, will focus on violence against minors, and the homosexuality issue (even if in a minor way) stating: "The Holy See will publish the statistics. Let us not give up on the protection of minors."
Two bodies representing Catholic religious orders released a statement today expressing shame at child sexual abuse committed by members of the Church ahead of this week's historic meeting in the Vatican on the protection of minors.
"This particular meeting focuses on the sexual abuse of children and the abuse of power and conscience by those in authority in the Church, especially bishops, priests, and the religious,"says the Union of Superior Generals (USG) and the International Union of Superiors General (UISC).
The problem is that Pope Francis and his predecessors knew exactly what was happening, and they are simply trying to save face with this propaganda stunt that will not change the dramatic situation of the Catholic Church clergy run by pedophiles and Satanists.
 "Our hope for this meeting is that the Holy Spirit will work powerfully during these three days." But a three-day meeting is a short time to reform a Church infiltrated by Satan and his Legion.  I wish new steps forward and important decisions can be made, but, unfortunately, I know the Vatican system is in the hands of the Devil.
Recently, a book came out entitled, In the Closet of the Vatican that states eighty percent of priests working at the Vatican are gay, although not necessarily sexually active. This is old news for those who have followed my work, as I made this revelation on Infowars last year, and I have been writing about it for years in my books.
Unfortunately, my stand against the Vatican is proving dangerous for me and my family as I am not only censored now in Italy, but also persecuted legally by an unjust judiciary system that wants to silence me forever.
Last week, when I was testifying my case in an Italian court,  the judge, who was obviously not on my side, asked me about my attacks on the deviant side of the Vatican, asking me to explain my position. The enemy is truly disturbed by my revelations and that's always a good sign, after all. I will continue the fight and report later this week on the Vatican's meeting on minors.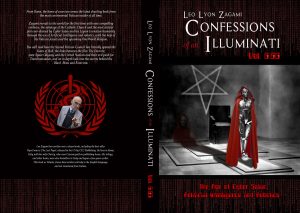 Leo Zagami is a regular contributor to Infowars and the author of the new groundbreaking book  Confessions of an Illuminati Vol. 6.66 The Age of Cyber Satan, Artificial Intelligence, and Robotics
OUT NOW ON KINDLE:
https://www.amazon.com/Confessions-Illuminati-6-66-Artificial-Intelligence-ebook/dp/B07NS8WS9V/ref=sr_1_2?s=books&ie=UTF8&qid=1550411820&sr=1-2&keywords=vol.+6.66
And on paperback :
https://www.amazon.com/dp/1796904694/ref=cm_sw_r_fa_awdo_t1_2dvACb2HVH6TP?fbclid=IwAR1h_VlIytuACI3zxXUc9mBfOk96N4Yk0WH3To6Psv2kbFxJLwfzAwV4mUE