No wonder Rita Ora and Oprah appeared unwilling to let go of each other as Harvey Weinstein approached them for a chat  back in February  2014, during the Weinstein Company's post-BAFTA party.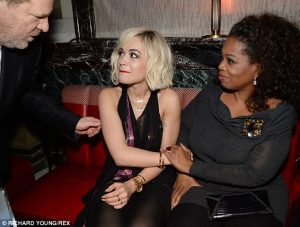 A couple of months later  Rita Ora  linked in the past to the Illuminati-affiliated rapper Jay-Z and his label, Roc Nation made a shocking transformation from red carpet stunner to drug addict in the Southpaw trailer and soon after illuminatiwatcher.com wrote:
"She's got so many All Seeing Eye pictures that it's ridiculous"
Meeting Weinstein is for some the beginning of the end.
Leo Zagami who is a regular contributor to Infowars and the author of Confessions of an Illuminati, Volume III: Espionage, Templars and Satanism in the Shadows of the Vatican  will be a guest on the War Room Show with Owen Shroyer & Roger Stone on the 17th of October 2017 @ 5:00 PM CST, talking about some of the subjects mentioned in his upcoming book.
 The Decline of the Western Initiatic System and the Rise of Satanism in our society
Paperback on AMAZON from the 17th of October 2017
https://www.amazon.com/dp/1978252307/ref=sr_1_8?ie=UTF8&qid=1508210631&sr=8-8&keywords=Leo%20Zagami
Also available for Kindle books:
https://www.amazon.com/dp/B076FB8NHD/ref=sr_1_9/146-3786191-7070600?s=books&ie=UTF8&qid=1508007636&sr=1-9&refinements=p_27%3ALeo+Zagami