The truth about the secret group working for the New World Order  that is leading the Church towards a schism pushing the the LGBT agenda into the hearts and minds of Catholics worldwide….
Godfried Maria Jules Danneels  a Belgian cardinal of the Roman Catholic Church openly involved with the St. Gallen Mafia wearing a rainbow inspired religious garment to celebrate mass.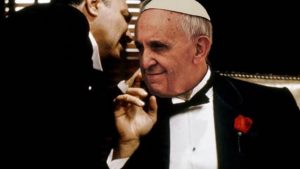 Don Bergoglio is alleged to be part of a international child trafficking pedophile ring….
Leo Zagami is the author of Confessions of an Illuminati, Volume III: Espionage, Templars and Satanism in the Shadows of the Vatican you can follow this story on infowars.com with Alex Jones on Tuesday the 11th of July 2017